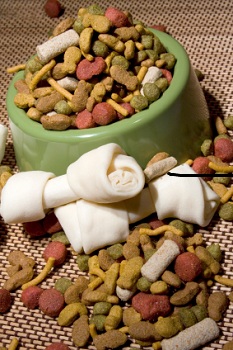 After a voluntary recall last year, some chicken jerky treats are back on the shelves – and in the news. Two major brands have announced that after making changes to their recipes, the treats are either available now or are returning soon.
The FDA investigation into the illnesses related to chicken jerky treats began in 2007, and to date, they have not been able to find the cause. Proposed rules to make pet foods safer are still in the review stage, but there are things you can do in the meantime to help keep your pets safe.
Watch for recalls and safety alerts.
Even though the FDA has not issued any official recalls, keep an eye on their jerky treats page and their official recalls and safety alerts for updates.
Remember that treats are treats.
Both the FDA and the American Veterinary Medical Association remind us that snacks are to our dogs and cats as junk food is to us, so they should be fed in moderation and not be part of your pets' daily diet.
Consider alternatives.
Your dog may be just as happy with whole foods, such as chopped vegetables and fruits, as they are with packaged dog treats. Celery, broccoli and apples are all good, crunchy choices. Remember that onions, garlic, grapes and raisins are off-limits – they're toxic to dogs.
Get help.
If your dog experiences any unusual symptoms, such as a decreased appetite, vomiting, diarrhea, excessive thirst or urination, or lethargy, call your veterinarian (whether you have fed your dog jerky treats or not). If these symptoms are occurring after giving your dog treats that you've never fed him or her before, keep what's left of those treats in its original packaging, put it somewhere safe where no one will accidentally feed it to your dog, and report any suspicions about the treats to the FDA or your veterinarian.